A leading French brand
among professionals
Expert and creator of thermal and climatic solutions for over 75 years, Airwell's mission is to create and enhance well-being.
Airwell is committed to:
Offer optimal comfort and well-being adapted to each need: air quality, temperature, noise, design, comfort, cost…
Simplify accessibility to solar energy to preserve natural resources through innovative, efficient and scalable solutions.
Support individuals to consume less, but better by being eco-responsible.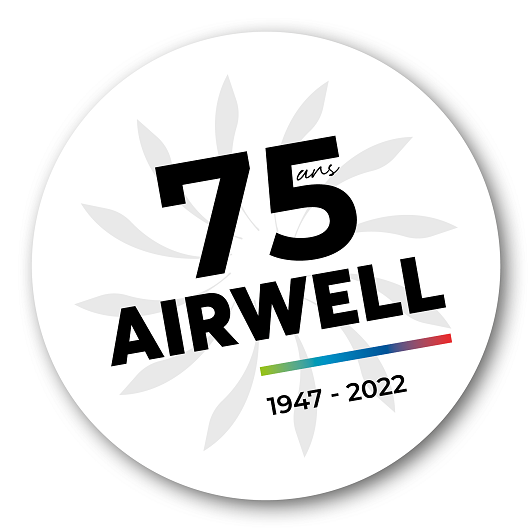 75 years of innovation at your side
From the first Window to the first air conditioning units installed in households in the 1950s… to the Hybrid House, Airwell has been accompanying you and making your daily life easier since 1947.
Since its foundation, Airwell stands as a reference in the industry all over the world.
A forward-looking vision. This is how Airwell was born in 1947. With this crazy idea of importing innovative solutions from the United States which did not yet exist in Europe: air conditioning.
Today, innovation is more than ever at the heart of Airwell as we become leaders in the creation of thermal and climatic solutions. A deeply human innovation, attentive to consumers. In line with the family spirit that defines Airwell, based on benevolence and respect of each other' s expectations.
Optimise our energy consumption, promote solar energy to preserve our natural resources, reinvent consumer practices to limit our environmental footprint, enhance the comfort of each living space… At Airwell, we are committed to the well-being of everyone and the environment.
What was for us an aspiration has become our mission.
Yes, energy solutions must be intuitive in their use and management. Yes, they do need to reduce ecological and economic impact in housing. Yes, the world of tomorrow must be shaped around a single principle, the serenity of each individual.
Our most beautiful energy story is you.
Just feel well is not just a word, it is a commitment that has been driving us every day for over 75 years.
It is our way of creating and enhancing well-being.
The world of tomorrow has to be shaped around a single principle: serenity.
The energy solutions have to be efficient, user-friendly and intuitive to use, as well as fully reliable. We strive to improve indoor comfort, even in extreme conditions of temperature and humidity.
With over 600 products in our range, we are able to meet the many different needs of consumers in terms of design, air quality, thermal and acoustic comfort…
We are committed to the development of high-performance, energy-efficient solutions that lower our energy consumption and thereby have a direct ecological and economic impact on the environment.
We promote solar energy and provide adapted and economical equipment in order to limit energy consumption and safeguard natural resources.
Through our CSR approach, we engage ourselves to be each day more eco-responsible and more invested in the social and human development of our society.
We reinvent consumer uses to meet the challenges of today and tomorrow.
We provide intuitive, scalable, open and connected solutions to facilitate their use.
We embed artificial intelligence within our products to create energy optimisation and preventive maintenance scenarios.
distributors worldwide through our network
product references in stock

The beginning of the story of Airwell, a French air-conditioning brand.
The company has developed and started the mass production of the first Window, in order to offer exceptional interior comfort conditions, mainly dedicated to the European and African markets.
Airwell has developed "split" units by splitting the Window unit into 2 parts. It thus became the first European manufacturer of this type of equipment. Establishment of the historical factory in Tillières-sur-Avre, France.
Airwell was the first manufacturer in Europe to design and produce wall-mounted units with integrated remote control, high-tech tangential turbines and quieter, energy-saving rotary compressors.
The group has acquired production plants in China (Shenzhen).
The company has launched its unique and exclusive After Sales Service, also dedicated to the customer
Creation of the Airwell Academy, technical and qualification training for the network of installers and maintainers.
Airwell launches its new online ordering service.
Airwell celebrates its 70th anniversary and creates its French subsidiary Airwell Distribution.
Development in the Middle East and Latin America.
Launch of the Airwell Connect project.
- Airwell becomes Airwell Group after acquisition of Airwell Residential by Airwell Distribution.
- Launch of the new Energy Leasing offer.
- Launch of the My Hybrid Home offer.
Our values and corporate culture
INNOVATION – SERENITY – COMFORT – ATTENTIVENESS – COMMITMENT
"Just feel well" means being part of the Airwell Group, an organisation based on durable and positive relationships. with mutual respect and sincerity.
An extended network of employees, distributors, installers, service technicians, partners and consumers.
An extended family where everyone can bring value to the company.
Our partners
Our certifications
ISO 9001
ISO 9001 certification defines Airwell's requirements for achieving quality management, which includes: leadership, customer focus, employee involvement, process approach, system approach, continuous improvement, factual approach in decision-making and positive supplier relations.
Eurovent
Eurovent is a reference laboratory in our sector. All Airwell products are certified by Eurovent, which guarantees the performance of the products, which in turn are tested thoroughly and transparently.
Keymark
Airwell air-water heat pumps are Keymark certified. This "Heat Pump Keymark" label is a very demanding European certification for heat pumps. This label guarantees the quality of the heat pumps. In order to benefit from it, appliances are tested in independent laboratories.