Heating/Cooling
Hot water
The Wellea Monobloc heat pump is an all-in-one home solution that manages hot water, heating and cooling. With a single outdoor unit, Wellea Monoloc can be easily integrated wherever you need it and can be adapted to every transmitter in your home: underfloor heating, radiators or fan convectors.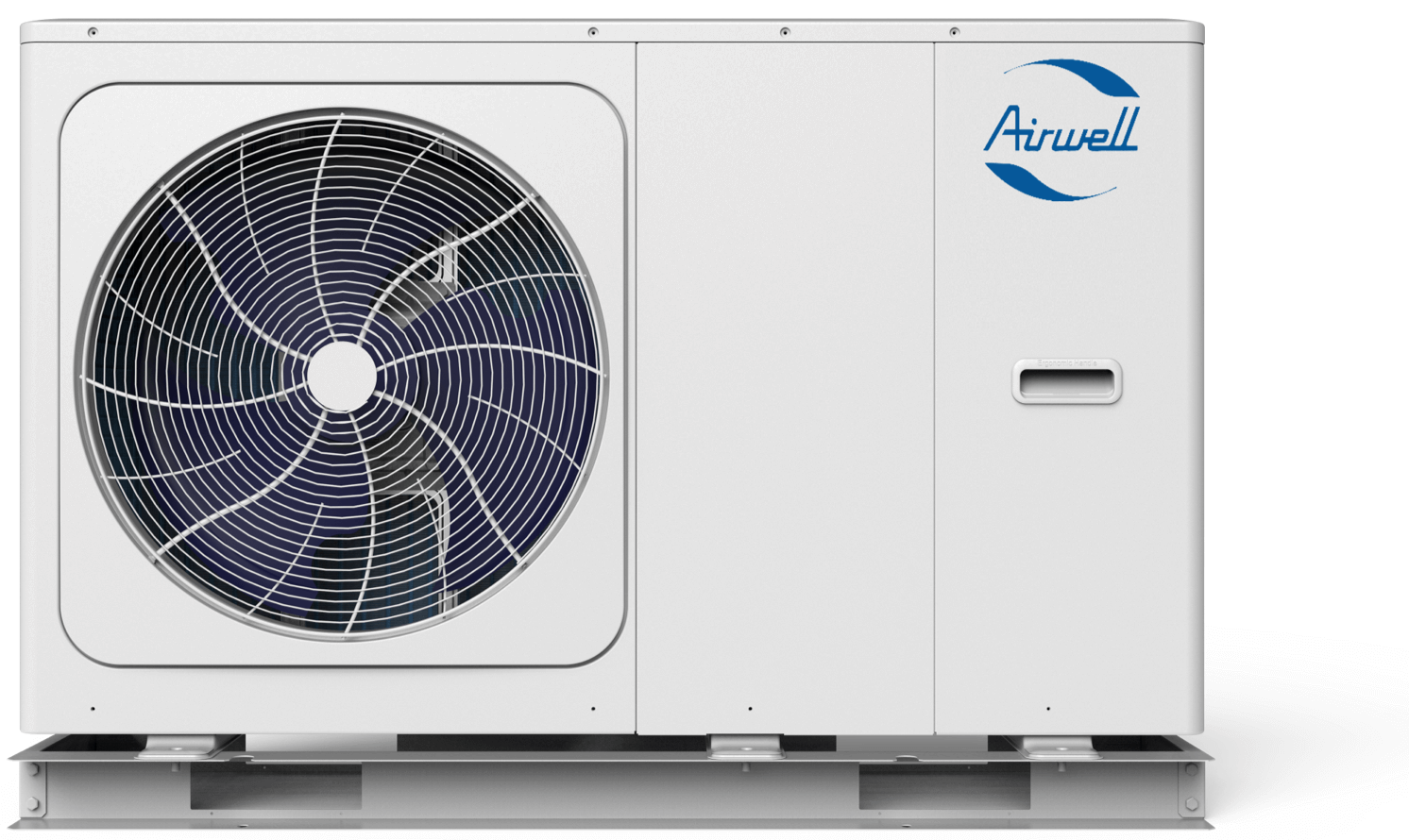 Ideal for replacing oil or gas boilers
Operation down to -25°C and +46°C outside
Don't put up with peaks
of temperature any more
Designed for outdoor temperatures ranging from -25°C to 46°C, the Wellea Monobloc heat pump provides rapid temperature control. It guarantees a constant and comfortable environment in both winter and summer.
Compatible with all
your equipment
The Wellea Monobloc heat pump is compatible with all transmitters and can be used with underfloor heating, radiators or fan coil units.
A+++ energy rating,
economy and ecology
Wellea heat pumps have an A++ energy rating, the highest rating there is. Reduce your energy bill compared to a boiler or standard electric radiators.
Installing a Wellea Monobloc heat pump is quick because not much fixing work is required. It is the ideal solution for those who want comfort quickly without extensive fixing work.
With Wi-Fi connectivity, you can control the temperature of your home from anywhere. The AirHome smartphone application lets you control the thermostat remotely for a perfect temperature as soon as you arrive or a stop if you're away.
Find the version that suits you
Reference
Ref. Outdoor unit:
AW-WHPMA04-H91
Refrigerator/PRP:
R32/675
Heating
ηsh/Energy class :
191%/A+++
Outdoor unit
Sound pressure at 1 m:
45 dB (A)
Acoustic power:
55 dB (A)
Unit dimensions (WxHxD):
1295x792x429 mm
Power supply
Phase/Voltage/Frequency:
1P/220-240V/50Hz
Reference
Ref. Outdoor unit:
AW-WHPMA06-H91
Refrigerator/PRP:
R32/675
Heating
ηsh/Energy class :
195%/A+++
Outdoor unit
Sound pressure at 1 m:
48 dB (A)
Acoustic power:
58 dB (A)
Unit dimensions (WxHxD):
1295x792x429 mm
Power supply
Phase/Voltage/Frequency:
1P/220-240V/50Hz
Reference
Ref. Outdoor unit:
AW-WHPMA08-H91
Refrigerator/PRP:
R32/675
Heating
ηsh/Energy class :
205%/A+++
Outdoor unit
Sound pressure at 1 m:
49 dB (A)
Acoustic power:
59 dB (A)
Unit dimensions (WxHxD):
1385x945x526 mm
Power supply
Phase/Voltage/Frequency:
1P/220-240V/50Hz
Reference
Ref. Outdoor unit:
AW-WHPMA10-H91
Refrigerator/PRP:
R32/675
Heating
ηsh/Energy class :
205%/A+++
Outdoor unit
Sound pressure at 1 m:
51 dB (A)
Acoustic power:
60 dB (A)
Unit dimensions (WxHxD):
1385x945x526 mm
Power supply
Phase/Voltage/Frequency:
1P/220-240V/50Hz
Reference
Ref. Outdoor unit:
AW-WHPMA12-H91
Refrigerator/PRP:
R32/675
Heating
ηsh/Energy class :
189%/A+++
Outdoor unit
Sound pressure at 1 m:
53 dB (A)
Acoustic power:
65 dB (A)
Unit dimensions (WxHxD):
1385x945x526 mm
Power supply
Phase/Voltage/Frequency:
1P/220-240V/50Hz
Reference
Ref. Outdoor unit:
AW-WHPMA12-H93
Refrigerator/PRP:
R32/675
Heating
ηsh/Energy class :
189%/A+++
Outdoor unit
Sound pressure at 1 m:
53 dB (A)
Acoustic power:
65 dB (A)
Unit dimensions (WxHxD):
1385x945x526 mm
Power supply
Phase/Voltage/Frequency:
3P/380-415V/50Hz
Reference
Ref. Outdoor unit:
AW-WHPMA14-H91
Refrigerator/PRP:
R32/675
Cooling
Power (A35/W18) :
13,5 kW
Heating
ηsh/Energy class :
186%/A+++
Outdoor unit
Sound pressure at 1 m:
54 dB (A)
Acoustic power:
65 dB (A)
Unit dimensions (WxHxD):
1385x945x526 mm
Power supply
Phase/Voltage/Frequency:
1P/220-240V/50Hz
Reference
Ref. Outdoor unit:
AW-WHPMA14-H93
Refrigerator/PRP:
R32/675
Cooling
Power (A35/W18) :
13,5 kW
Heating
ηsh/Energy class :
186%/A+++
Outdoor unit
Sound pressure at 1 m:
54 dB (A)
Acoustic power:
65 dB (A)
Unit dimensions (WxHxD):
1385x945x526 mm
Power supply
Phase/Voltage/Frequency:
3P/380-415V/50Hz
Reference
Ref. Outdoor unit:
AW-WHPMA16-H91
Refrigerator/PRP:
R32/675
Cooling
Power (A35/W18) :
14,9 kW
Heating
ηsh/Energy class :
182%/A+++
Outdoor unit
Sound pressure at 1 m:
58 dB (A)
Acoustic power:
68 dB (A)
Unit dimensions (WxHxD):
1385x945x526 mm
Power supply
Phase/Voltage/Frequency:
1P/220-240V/50Hz
Reference
Ref. Outdoor unit:
AW-WHPMA16-H93
Refrigerator/PRP:
R32/675
Cooling
Power (A35/W18) :
14,9 kW
Heating
ηsh/Energy class :
182%/A+++
Outdoor unit
Sound pressure at 1 m:
58 dB (A)
Acoustic power:
68 dB (A)
Unit dimensions (WxHxD):
1385x945x526 mm
Power supply
Phase/Voltage/Frequency:
3P/380-415V/50Hz